If you like the tutorial. Please submit this tutorial to Digg. If it's already submitted please Digg.
---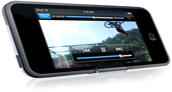 Here is my promised
VoIP
video. It is how t0 install and use the VoIP application on your ipod. you can use voip to call people through wifi. again you need wifi to call people. also i am showing you where to get a microphone for it. This ONLY works for firmware version 1.1.1 and 1.1.2! Since 1.1.3 is NOT jailbroken yet!! also sorry for the weird affects you will see in the video, i accidentally kept showing my password and phone number on camera. sorry.

Wifi Internet

iPod Touch (duh)

Jailbroken iPod

Source "
http://touchmods.net/rep.xml
"