1.1.3 Jailbreak + iPhone apps all in 1 package!
by iPod Elite Team
Thanks to the efforts of ipodtouchmaster, Chris Stroud, and ipodtouchhacker. We have released a new automatic jailbreak that still requires no computer. Our new version is a spawn of the Dev Team Jailbreak, but it installs the iPhone apps ( The January Software Update) during the install. This should really help simplify things! if u have questions or comments, post them. This Jailbreak may take up to an hour to install!
Our Repo for this is:
http://ipodtouchmaster.com/files/repo.xml
We are currently making a video right now, either check back here, or check ipodtouchmaster's youtube page in an hour or two.
this may or may not work on the iPhone, but we don't see why it wouldn't. Thanks and good luck!
Requirements:
Jailbroken 1.1.2 device
Latest Version of installer
BSD Subsystem 1.5 or greater (2.0 is current)
Turn Autolock to "never"
Attatch your device to a power source (or make sure it has full battery)
---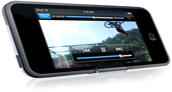 Possibly the most easiest way to jailbreak and iPod Touch. Just make sure you have the fallowing:

Alot of battery on you iPod

Jailbroken 1.1.2 device

BSD Subsystem 1.5

Auto lock "Never"